Wyatt Hooker
Grade 7
Troy Bolton
---
This is my 4th year participating in HPS Drama Club. I first started out in Lion King as a Hyena and Zebra. Then in Shrek I was the Pied Piper. Last year I was Kurt Von Trapp in Sound of Music. This year I started out as Chad Danforth but due to complications I became Troy! I love Drama because of the connections that you make with all of your castmates.
Lola Leal
Grade 7
Gabriella Montez
---
I play Gabriella Montez. I've been in a lot of productions (too many to count). Some of my favorites being the Sound of Music, and Jungle Book. In the Sound of Music I played the Mother Abbess, and in the Jungle Book I played Ka the snake. Drama is a huge part of my life, and I would love to make a career out of it one day. I have quite a bit in common with my character this year. Besides looking pretty similar, we also have very similar personalities. We both are shy when you first meet us, but when we get comfortable with you, we are a completely different person! I hope you enjoy the show and have a wonderful experience!  
Milana Daniel
Grade 8
Sharpay Evans
---
I've been at HPS since 3rd grade and have been in every show since. That's SIX shows! Jungle Book as Bee, Willy Wonka as Grandpa George, Lion King as Young Nala, Shrek as Peter Pan, Sound of Music as Sister, and HSM as Sharpay. I am nothing like my character Sharpay, but sure did have fun playing her!
Eden DeMino
Grade 6
Ryan Evans
---
I have been in Shrek, 101 Dalmatians, and High School Musical. I love doing plays and running cross country. Ryan has been my favorite role…or maybe Cruella de Vil.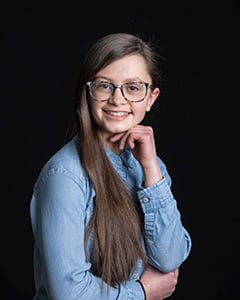 Eva Isaacs
Grade 8
Ms. Darbus
---
This is Eva's 5th performance at HPS. She debuted in Willy Wonka playing Grandpa Joe and has since played Zazu in Lion King, the Wicked Witch in Shrek, and Max Detweiler in The Sound of Music. She enjoys Drama because it allows her to be creative and is a tight knit community that makes her feel joyful and welcome. In her free time she enjoys reading, mountain biking, skiing, traveling, and playing the piano.
Michael Gora
Grade 7
Coach Bolton
---
This is my second play with HPS Drama Club. I was also in Charlie and the Chocolate Factory. I have enjoyed having the opportunity to be in the play. My favorite role in the musical has been Coach Jack Bolton because he's a coach and he is a very stubborn person which I think fits my personality.
Sophia Beidel
Grade 7
Jackie Scott
---
This is my 3rd play production with HPS Drama Club. I love these productions because it brings so much joy and happiness to me. I love meeting new people hearing new voices and much more. This production has been one of the hardest productions we have ever done. There were some pros and cons to this play, but we did it. This means a lot to all of us and to many new actors and actresses. So let's show them what we've got and put on a great show.
Coco Terrell
Grade 7
Taylor McKessie
---
I am 12 years old, and have been in the Drama Club for about 4 years now. I have been in The Lion King, Sound of Music, Shrek, and Willy Wonka. I love doing drama because I love the community, performing, as well as meeting new people! I relate to my character, Taylor McKessie, because of her sarcastic sense of humor and funny remarks. I hope you enjoy the show as much as I do!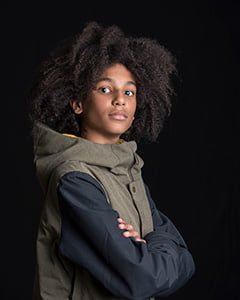 Gavin Fuller
Grade 7
Chad Danforth
---
I love to play all kinds of sports. I was in The Lion King and High School Musical. My favorite role has been Chad. I love that you can make so many friends and memories when participating in the Drama Club. My character and I have a similar personality.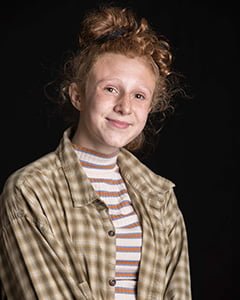 Allie Jacobs
Grade 8
Kelsi Nielson
---
Allie Jacobs is a spectacular 8th grader, and has been in several plays including a fairy tale play, where she played goldilocks, Shrek the Musical as a stage hand helping with music and the spot light, the Sound of Music, where she was comic relief and in the ensemble, and now she is thriving as Kelsi Nielsen in the play High School Musical. She also has performed in many revues with VPAA. Allie is hilarious and fun and since she wrote this, she must also be an awesome writer too.  Have fun at the show!
Belen Hahn
Grade 7
Martha Cox
---
High School Musical is my fourth production with Drama Club. My role is Brainiac Martha Cox. I am so glad to be a part of this show and be able to have this role. HPS Drama Club has such a good environment that is full of joy. I will miss being able to be in the drama club next year as this is my last year at HPS.
Marco Perez
Grade 7
Zeke Baylor
---
I play the role of Zeke Baylor from High School Musical! This is the first performance I have ever done. I am so excited to perform to everyone coming to the show! One thing that me and Zeke Baylor and I share in common is that we both like to bake delicious foods.
Web Morris
Grade 6
James, Thespian
Kratnoff, Brainiac
---
This is my second performance with HPS drama. My first performance was 101 dalmatians last year. I like participating in drama club because you get to learn new dances and songs and have fun with friends. My favorite character is James because he likes being in drama clubs also. What James and I have in common is thinking outside the box and thinking of new ideas.
Ruthie DeMino
Grade 8
Ripper, Skater Dude
Cathy, Thespian
Cheerleader
---
I have been in every school drama production, excluding the Lion King, since 3rd grade. I have always been in the chorus until last year. It was my favorite role and I was the housekeeper in the Sound of Music. I had a few lines but got to have other roles as well. I love Drama Club even though it's a big commitment. You meet so many people and it feels so good on show night to see how it turns out. I love to ski and run. I am so sad to be leaving HPS and the drama club. It's been so much fun.
Teagan Douglas
Grade 6
Susan, Thespian
Skater Dude
---
This is my first production, I've always loved theatre and I really enjoy being a part of it. I feel me and my character Susan are lots alike because we both live for theater. I hope you enjoy tonight's show!
Elena Abud
Grade 6
Cyndra, Thespian
Skater Dude
---
I love to sing and dance. This is my first time in the HPS drama club.
Elle Armistead
Grade 8
Ms Tenny, Teacher
Basketball Player
---
Well I have been in a lot of productions, but not in school. I have been in the Missoula Children's Theater. This is my first ever HPS production, which I have loved participating. My favorite part so far is being a jock and having a speaking role. What I like about drama is being with friends and having fun doing the play. What I like about my characters…for drum major I love to be loud, for a jock I would say a chance to be sporty (which isn't normally really me), and Mrs. Tenny, a chance to be like Mrs. Biniecki.
Manuella Loures
Grade 6
Mongo, Skater Dude
---
I am Manuella Loures and I play Mongo.
I have been in three plays and this will be my fourth.
Enjoy the show!
Baizley Biniecki
Grade 6
Jock/Basketball Player
---
This is my third show with the HPS drama club. Last year I played Pongo in 101 Dalmatians. I enjoy the acting and speaking parts of a musical and watching the whole show come together over time. It's been hard for me to fully commit to the show because of sports but I have been able to adapt to these conditions. I am an athlete and basketball player just like my character.
Haven Heaphy
Grade 6
Jock/Basketball Player
---
This is my first year in the drama program at HPS. I enjoy being outside, being with friends, and doing sports. I enjoy basketball (like my character), running, and just playing. This show has been so much fun and I hope to participate in the HPS Drama Program again!
Isabella Loures
Grade 7
Brainiac
---
This is my 4th play that I`ve been in. I`ve been in Lion King, Shrek, Sound of Music and now High School Musical. I`ve loved doing the plays and will be doing it in 8th grade as well. The plays have always been so much fun and enjoyable. Even though this year we have been through a few ups and downs we still made it work!
Bridgit Gonzalez
Grade 6
Brainiac
---
This is my first show with HPS Drama Club. My favorite part of my role is that I don't have too many cues, but it is really entertaining. Me and my character both really like being tidy, clean, and germaphobic.
Mackenzie Tyrrell
Grade 7
Skater Dude

---
I have been in 5 plays (Willy Wonka, Lion King, Shrek, Sound of Music, and High School Musical). I love being a part of drama club because I have made so many friends and it is very fun. Me and my character (skaterdude) both like to skateboard.
Ayla Katsorchis
Grade 7
Cheerleader
---
I've been in 3 different productions at HPS, High School Musical being my third. The productions I've done are Willy Wonka and the Chocolate Factory and Lion King. My favorite roll is the one I'm currently doing (Cheerleader). Participating in drama club has so much to it and I like singing and dancing with multiple people. Another thing I enjoy about drama club is that all my friends are in it and we get to have fun together.
Gabriella Chavez
Grade 8
Cheerleader

---
This is my first production with HPS Drama Club. I have had so much fun!!! I thought the poeple were amazing! They are very encouraging and we're all learning together. It has been a great experience. I am a little like my character as I am very energetic and love to dance around everywhere I go!!!
Berit Borre
Grade 7
Cheerleader 
---
I have been a part of three performances before and I was a student assistant director in one other play. This is my first year doing a play at HPS. My favorite role was probably when I played a twin in a show called Stone Soup. Something I like about HPS drama club is that it gives you a chance to meet new people and make new friends. Something that my character and I have in common is we love to sing and dance.
Libby Lowen
Grade 7
Cheerleader

---
I have been in one other production but it was at a different school. What I like about Drama Club is that I made more friends and got closer to some people. Another thing I like about Drama Club is that it is one of those things that I wouldn't try if none of my friends were doing it. I'm glad I tried.
Kimberly Biniecki
Teacher
Decathlon Moderator
---
This is my first cameo appearance in an HPS production. Actually my first time acting EVER! Although asking questions and redirecting students is kind of in my wheelhouse. It has been very exciting, interesting, and fun being a part of this production. I am amazed by the hard work of the directors, lighting and sound experts, stage crew, and actors. Way to go team!!
Jack Henry
Grade 6
Stage Crew, music
---
I am the sound man for High School Musical. I am in charge of all musical cues during the entire show. The should could not go on without me! I like video games.
Lexi Hermosillo
Grade 7
Stage Crew
---
This being my first performance. What I like about drama club is the students and teachers. I'm 13 years old and I like cats.
Keagan Bultz
Grade 7
Stage Crew
---
This is my first performance with HPS Drama Club. I am the stage manager and I help move all of the sets and props into their correct spot. I am so proud of this drama group and of how far they have come. I will be doing the play next year and I hope it will be a great year!

Lilly Carullo
High School Student
Assistant to the Director
---
Lily is thrilled to be a part of this year's performance of High School Musical! She was a part of Battle Mountain's performances of Legally Blonde and the Little Mermaid. She was also the stage manager for the HPS musical of The Sound of Music last year, and is currently in Battle Mountain's production of Pippin. Next year she plans to travel the world and experience new things before she makes her way towards college
Dr. Ashley Winnen
Assistan Principal, Middle School
Choreographer
---
When asked to describe herself, one of the first words that comes to Dr. Winnen's mind is "dancer." Over the years, Dr. Winnen has been a dancer, choreographer, cheerleader, and dance team coach. Currently, Dr. Winnen can be found in the halls of HPS cheering, dancing, and singing on students as they head to class.
Dr. Ashley Winnen
Band Teacher
Vocal Assistant
---
Mallorie Werts is the music teacher here at HPS, and is passionate about making music and sharing it with others. Mallorie received her Bachelor of Music degree from Colorado State University, and her Masters Degree in Clarinet Performance from the Indiana University Jacobs School of Music. She loves living in the mountains, and when she is not teaching music she enjoys writing, crafting, running, hiking, and spending time with her husband and dogs.
Stephanie Gallegos
Director
---
I have always loved the theater! As a student I was in several plays and enjoyed competitive speech and debate when I was in high school. During the early part of my career when I taught down valley I directed several different middle school shows. One of my favorite productions was the Ransom of Red Chief. I have thoroughly enjoyed watching our students grow into their character and come together as a group. The theater is a place where everyone can find their place and I couldn't be prouder of the work these kids have poured into this production. Enjoy the show!
Deb Swain
Assistant Director, Vocal Director
---
Deb Swain is the Assistant Director and Vocal Director for High School Musical and Director for Frozen Kids.  Her first show with the HPS Drama Club was Shrek Jr, as Vocal Director.  Last year she directed 101 Dalmations Kids and handled vocal direction for Sound of Music Jr.  When not spending time with the kids at HPS, Deb has a small accounting business, directs and sings with Mountain Harmony, a women's acapella group and sings with the ERPC church choir.  Beside HPS shows, her most memorable musical experiences have been singing in South America for three months with the Youth For Understanding Chorale, and performing at Carnegie Hall with the Aspen Choral Society.
In her free time, she enjoys hiking with Golden Retrievers, Lucy and Molly, gardening with kitty Bellatrix, skiing, fencing and hanging out with partner, Don, and spending any time she can with her incredible daughters, Jenai and Rychelle.
Homestake Peak School's Drama Club would like to thank Todd Pierce and Kate Morris for these beautiful headshots and for producing the program!